Since April and when most governments enforced mandatory lockdowns to curb the spread of Coronavirus, we've been busy in the inbox of our newsletter subscribers. In there, we've provided a ton of animation and comic resources to keep our dear readers entertained in order to help with social distancing, quarantine and to ease minds off the pandemic.
Most of the content in there was made possible by generous comic studios like Kugali and YouNeek Studios who gave out their stuff for free, albeit for a limited time.
Outside of these, other African creators have risen to the unique challenge presented by Covornavirus by providing much-needed entertainment in these uncertain times. This has been in the form of free comics, art challenges, webinars and art.
Below, we list some of the comics and animation from Africa you can certainly quarantine and chill with.
Comics
Kugali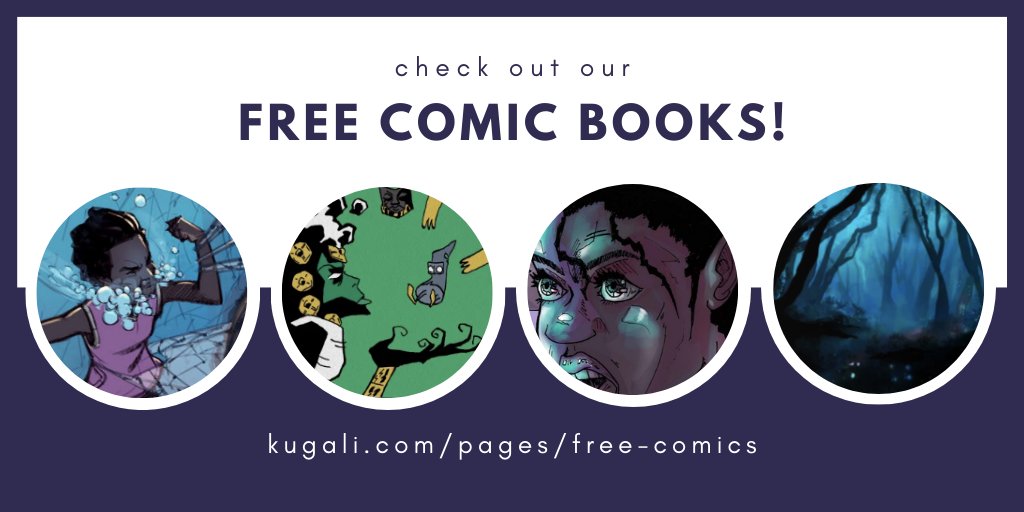 Kugali, the African comics anthology is making available 4 comics from it's library of stories free to read, with more coming out every two weeks. Some of the comics made free so far are Ziki Nelson's Nani, Lake of Tears, Razorman, Mumu Juju and Juni Ba's Ndaw. Check out the free comics from Kugali here.
YouNeek Studios
Quarantine and chill inside the YouNeek Youniverse with hot titles such as Iyanu, and Malika Warrior Queen. The studio behind the well-received Malika: Warrior Queen animation has for a limited time, made a good chunk of their comics and educational resources free.
Get the YouNeek freebies here.
Comic Republic
Comic Republic is one of Africa's biggest comic book publishers. Way before COVID-19, the studio put out its comics for free. Now is a good time to check their stories out if you haven't already. We recommend Tatashe which is an absolute favorite. Check out our Tatashe review here.
Explore the world of Comic Republic.
TAG Comics
TAG Comics are new kids on the block but in less than a year, have managed to steal our hearts with their deviant and unexpected choice of stories. They even got longlisted for the Nommo Awards in 2020. From the magical to vivid recollections of life in an African senior high school, TAG Comics has a story for you. Read our Squid CoW review on Danfo and opinion piece on Viper, a ninja cockroach who's to love. Like Comic Republic, all their comics are free.
Check out TAG Comics.
Juni Ba
Everything Juni touches is pure gold. His tweet the same so instead of telling you about what he's offering, we'll just quote what he shared via his twitter instead.
We're supposedly all stuck at home so let me interest you in a few short comics I made, all set in a weird island owned by a company selling processed Monkey Meat in a hyper capitalist universe. They're all free on http://gumroad.com/juniba

Juni Ba
Awele Emili & LOL Gh
Awele Emili and LOL Gh's Dorkheads thrive on Instagram where they share hilarious slice-of-life comics. Both camps have shared their fair share of comics related to the pandemic that raise awareness in a fun and easy way.
Don't be a Corona head by LOL Gh
Catching Flights no Feelings by Awele Emili
Games
Get to Bed (Game Jam)
In this pixel-art game, you're alone and the night's getting dark so turn off all the lights and get to bed. Be careful, remain in the dark for too long or wander between dark rooms, and you might find out if you're really alone.
Navigate through the game's 15 levels with your arrow or WASD keys, flipping switches and avoiding the darkness.
This game was made by Joel Nana Kwaku as part of an online weekly game jam. According to the creator, Go to Bed is his first-ever game made during a jam.
It's a fun game to play while under quarantine and is available for Mac, Windows and online. Play Get to Bed now.
Coronavirus themed animation
One of the best weapons in the fight against COVID-19 is the dissemination of accurate and timely information, especially to kids. Realizing how overloaded, inadequate and boring the information being spread was, some animators put motion into ink to create informational animated shorts.
Wazi and friends
The national health department of South Africa made available a number of fun animated videos for the little ones.
Anthill Studios (Coronavirus)
Nigerian animation powerhouse, Anthill Studios released a special animation to explain the Coronavirus to kids. The animation first released in English has been translated into more than a dozen languages within Nigeria and across the world to spread the information as widely as possible. The animation was recently featured on CNN.
Parables Animation
Ghanaian animation studio has also released a number of illustrations, comics and animation to create awareness about the Coronavirus pandemic. They've even gone further to include information about Ghana's ban on restrictions and (now-lifted) lockdown.
Follow Parables on Instagram for more.
More African Animation
We've curated an interesting playlist of animation from Africa you should definitely check out. It'll give you different kinds of feels, introspective, adorable, tragic, badass and plain hilarious.
---
What are you going to quarantine with?
---
Join our exclusive club and never miss an update.
---
KaDi Yao Tay
Kadi Yao Tay is an improving social inept constantly navigating the maze of human interactions in a bid to figure out his place in the world. He has an unbridled love for kelewele (spicy fried plantain) and abuses the word "chale", chale. He also sucks at soccer video games and absolutely won't play against you. Do not ask! Oh, also, editor-in-chief on this site, producer of the
Accra Animation Film Festival
and editor of
Noanyi
,
YPKI
&
Once Enough
.
Related posts