The Africacomicade Gamathon returns for the third time from September 19 – 24, 2022
This year's theme is Sustainable Creativity.
Tickets start from $25 available here.
Love games, VR and XR? The Gamathon is a convention-styled event of digital creatives in the games, animation, comics, and XR industry. It is a platform for African creatives to showcase their work, network, find opportunities for learning, collaboration and funding and engage in conversations relevant to the growth of the industry.
Very little is known about the African digital creative industry in animation, comics and especially games and XR. That's where the Gamathon comes in. It is a direct approach to building the Game and Digital Media industry in Africa through community, entrepreneurship, and collaboration.
It is a week-long hybrid event, allowing participation from across the globe, virtually, and rounding up with a physical expo event in Lagos, Nigeria. 
Since its inception in 2020 – recaps below -, the Gamathon has brought together stakeholders from across the globe and partnered with top global organizations in the industry like STEAM, Unity, Xbox, Rovio, Carry1st, IGDA Foundation, Humble Bundle, and Jiwe Studio, to host workshops, masterclasses, fireside chats, and more, to build a robust and sustainable creative industry.
This year's theme is "sustainable creativity". There will be discussions around the business sustainability of the African creative industry. The event will also be focused on career and entrepreneurial development for African digital creatives, highlighting opportunities and avenues to achieve this.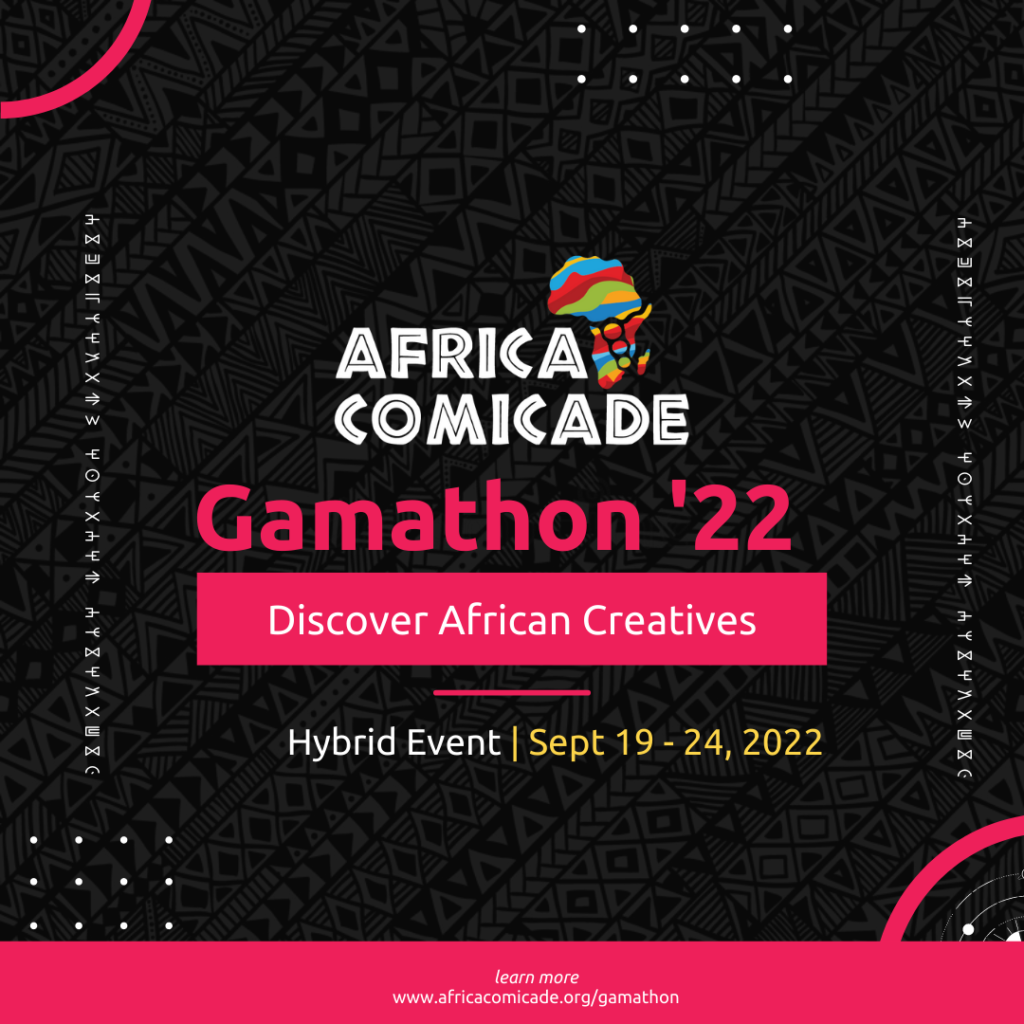 It features a game jam, pitch competition, short film screening, virtual exhibitions, lots of workshops, talks, and a physical expo.
This year will build upon its successes and learnings to deliver a unique program that focuses on supporting local stakeholders and connecting them to opportunities from across the globe.
The gaming and entertainment industry has been acknowledged as a tool for youth empowerment and socio-economic development. The video games industry in Africa is said to be worth $590 million in 2021. The event aims to provide access to relevant stakeholders and foster collaboration for the development of both the local and international markets.
To learn more about the event and to stay updated on all the activities to be expected, visit www.africacomicade.org/gamathon. You can get your early bird tickets on Eventbrite or Tix.Africa. Tickets start from $25.
Visit Afriacomicade for more information about the Gamathon this year.
The Vision
Africacomicade envisages a creative African community that can build, collaborate, and sell globally. During Africacomicade's inaugural Gamathon in 2020, they reached about 200+ creatives and attracted 45+ partnerships across the globe. 
The game jam saw the creation of 20+ games and 15 teams won cash prizes from a pool of $6200. There was an emphasis on collaboration across borders and a special prize category was dedicated to the most diverse team.
Africacomicade Gamathon 2020
Catch up on the 2020 event via this recap doc.
Africacomicade Gamathon 2021
Catch up on the 2021 event via this article and this pitch deck/ recap doc.
Kadi Yao Tay
Kadi Yao Tay is an improving social inept constantly navigating the maze of human interactions in a bid to figure out his place in the world. He has an unbridled love for kelewele (spicy fried plantain) and abuses the word "chale", chale. He also sucks at soccer video games and absolutely won't play against you. Do not ask! Oh, also, editor-in-chief on this site, producer of the
Accra Animation Film Festival
and editor of
Noanyi
,
YPKI
&
Once Enough
.
Related posts