It's not a seahorse, it's not a ship, it's a cow – a squid cow. Hold your fins, that's just Squid Comic of the Week! This week's comic is My Grandfather Was a God by Murewa Ayodele and Dotun Akande.
It's a fresh new year and we're excited to bring back Squid CoW, our fun, laid-back review of African comics and webtoons you must absolutely check out. Here, Kofi and I share everything we love, hate and look forward to in the comic in scope akin to discussing it on a podcast.
Tofunmi is the granddaughter of the supreme god of the heavens, Ọlọrun. When Ọlọrun stops coming for their usual meet ups, monsters begin to leak into the human world. Tofunmi must leave everything behind to face these monsters, ghouls, and gods till she finds her beloved grandfather, protecting innocent humans along the way.
Important Info About My Grandfather Was a God
Initial Release: April 30, 2021
Editions: 6
Origin: Nigeria
Creators: Murewa Ayodele (writing) and Dotun Akande (art)
Genre: Fantasy
Publisher: Collectible Comics
Likies ❤️
Kadi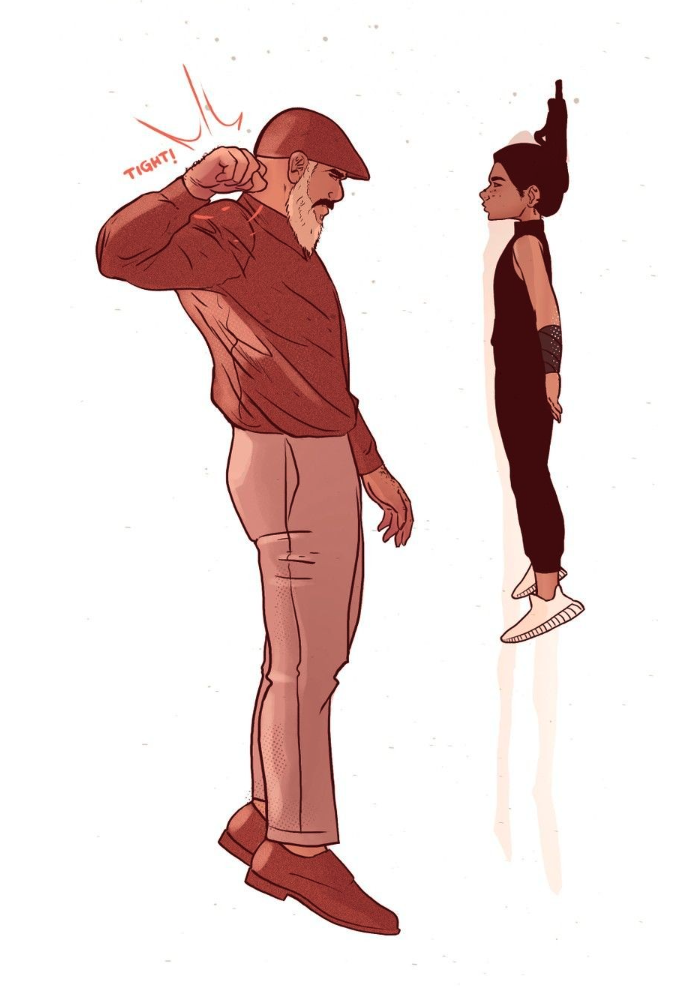 I love the concept. It's fascinating. Nothing has excited me about giving the Yoruba pantheon mythos a fresh spin since Kiyindou Yamakasi's Orisha Pikin. Love that there's an entirely new world and it isn't limited to the past with warriors in loin cloth or an overly modern adaptation.
I love the MC Tofunmi, and boy is grandpa Ọlọrun fire. I adore his character design. That it's what a hip grandpa today would look like particularly intrigues me.
Also like the art style. The fact that there are minimal color tones, with beige being the dominant color. Weirdly, there isn't any visual overload and I quite enjoy that. It's not what I'm used to but it works. It reminds me of Garth and Spiderman that I used to read in the newspapers growing up. Speaking of Spiderman, I love the aesthetic cues this comic takes from Spiderman: Into the Spiderverse to add a dash of color as well as describe effects in the comic.
Then there's the persepctive.
For an action comic, My Grandfather Was a God artfully showcases the action in a way that makes me feel like I'm right there with the characters.
Lastly, I love that it's an African Webtoon. It makes for easy reading on my phone.
Kofi
For me, My Grandfather was a God was akin to reading a visual encyclopedia of the Yoruba mythological Orishas.
Coming from one of my favorite Nigerian storytellers who are now lending their talents to Marvel Studios, this web series has got some of the craziest drawing layouts, perspectives and adorable non-vocal sound effects ever seen.
The Collectible Comics duo didn't hold back at all with their sense of style with this one. It is evident they really wanted to go for a predominant sepia-monochrome scheme conveying their message without an onslaught of colors. The storytelling is apt and flawless and this is profoundly shown in episode 3 which is my favorite episode by far.
Urgh ?❤️‍?
Kadi
There's almost nothing I dislike about this comic. Two things break my heart. The first is a lack of sufficient characters. So far, there are only two central characters, Tofunmi and her grandad. There's also the monsters but they don't really matter. I'd love to see Tofunmi's interactions with other characters beyond her immediate family and the flat villains. I'd also love to see more real villains and understand their motivations. Also, who are Tofunmi's parents? What's the backstory?
The only other thing that bothers me is the fact that there hasn't been an update since 2021.
Kofi
The only massive setback with this webcomic is an excruciating hiatus since the end of the first season. Other than that, the lack of intense build up which kinda got me lost in back and forth of training and bonding sessions between Tofunmi, our orphaned demi-god princess and Ọlọrun in the early episodes and that didn't afford me proper appreciation of the expansive world in which I had got immersed in or the late introduction of memorable characters except the Eshu Brothers and Sango, who I would've love to see more.
Way deep into the scenes, I did yearn to see jaw-breaking monsters, monsters that will frighten Hellboy's Mike Mignola in his dreams, not cockroach/beetle-looking behemoths.
Infinity and Beyond ?
Kadi
Directly tied into my previous point about episodes stalling, I'm hopeful for continuity and potentially, even an animated spin-off of this series. I'd also really really love to see this become a Webtoon original, with some animation and music, similar to Ordeal, another webtoon I'm crazy about. To make this happen, go read read read, like, comment, share and subscribe to My Grandfather Was a God.
Kofi
I hope the second season isn't short of the dope action packed scenes we were entreated to in the first. Am looking forward to more revelations on Tofunmi's origin, worthy monstrous characters and earth-breaking godly conquests. This webtoon has the potential to be picked and developed into an animated series, I would so love to bear the sight of this as a Netflix original animated series. Fingers crossed.
Where to read My Grandfather Was a God
My Grandfather Was a God is available exclusively on Webtoon.
Squid Mag
Squid Magazine is dedicated to covering African comics, games, animation and geekiness because our lives depend on it. This profile features all posts by guest contributors as well as curated posts from the internet that have a connection with African comics, games and animation. You can find content from contributors such as James Dogbeda Makumator, Bill Masuku and Tinodiwa Zambe Makoni among others.
Related posts