The summertime calendar in Accra is chock-full of unique creative events that will keep your creative juices flowing and at the same time, serve you a healthy dose of entertainment, inspiration and a good look at all the exciting things happening in the world of video games, animation, illustration, comics and contemporary art.
If you're in Accra, or plan to be between July and August, and need rich and fulfilling creative events to attend, these events will keep you busy.
Accra Animation Film Festival (AAFFia)
When: July 27 – August 2
Where: Basecamp Initiative, Antique Lemonade, Silverbird Cinemas
Rate: Free & Paid
---
The maiden edition of the Accra Animation Film Festival finally kicks off this year! From July 27 to August 2, Accra will come alive with the very best of animation from Ghana, Africa and the world!
The festival will feature screenings from festivals across the world, such as the Cape Town International Film Festival (Cape Town), Klik Animation Festival (Amsterdam), Anim'est (Bucharest), Encounters Film Festival (Bristol) and Fupitoons Festival, an animation festival for kids. It will also feature a curated program with projects from The Line Animation Studio (London) and Mirai Mizue (Japan).
At its core, AAFFia aims at growing the animation ecosystem in Africa and connecting local animators to other professionals in other continents. To make this happen, the festival will screen a special program of African animation selected from submissions to the festival in addition to a carefully curated selection of African animation.
The main highlight of the festival is the third preliminary round of Annecy's Animation du Monde MIFA Pitches. This will be the first time the pitches are coming to Ghana. They present an opportunity for animators and content creators to pitch their ideas while they're still incubating to a panel of seasoned judges who give valuable feedback and help market it to producers.
Find out more about the festival at https://aaffia.org
dEX Artmosphere 3.0
When: August 3
Where: Stanbic Incubator, Stanbic Heights
Rate: Free (requires registration)
---
Remember dEX Artmosphere? dEX Artmosphere is a creative meetup that brings together the creative community in Ghana. From graphic designers, illustrators, animators, 3D artists down to design enthusiasts, dEX is the place to be to meet, network, exchange ideas and explore ways of improving the design industry in Ghana.
dEX Artmosphere has grown since its maiden edition last year to become the biggest gathering of graphic designers and design enthusiasts in the country. The theme for this edition is, "The Business of Creativity" with a lot of focus on how designers can create more value for themselves.
As part of the activities, there will be Portfolio Presentations, Workshops, Panel Discussions on design in Ghana, Networking sessions and Games (console, board and creative games)
The Full Moon Exhibition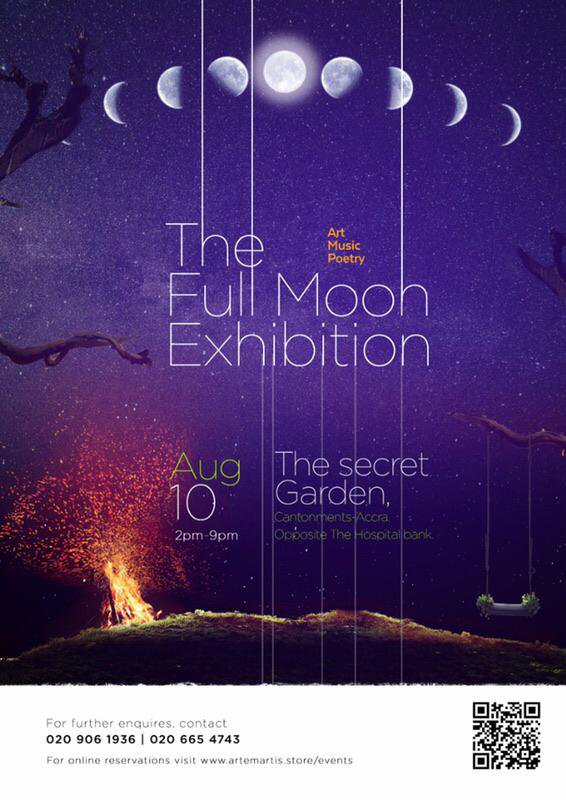 When: August 10
Where: The Secret Garden
Rate: GH¢20.00
---
A full day of art, music and poetry can be just the thing you need to wind down and appreciate the beauty of the world. Last year's Full Moon Exhibition featured an impressive collection of art, which included paintings, pencil art, digitally illustrated prints.
Beyond the art exhibition, there were music and poetry performances from up and coming and alternative artists in Ghana. If last year's event was anything to go by, Full Moon Exhibition promises to be a thrilling, intimate affair where – as the organizers put it – you can experience art in its truest form.
Buy your Full Moon tickets online here.
Chale Wote Street Art Festival
When: August 14 – 25
Where: Jamestown,
Rate: Free
---
The annual Chale Wote Street Art Festival needs very little introduction. The CHALE WOTE Street Art Festival is an alternative platform that brings art, music, dance and performance out of the galleries and onto the streets of James Town, Accra.
8 years in the making, the festival is arguably the largest street art festival in West Africa. It brings in scores of artists and patrons from across the world to interact with and experience art outside the galleries. The festival caters to all forms of art, such as performance, music, painting, fashion, food, comics, skateboarding and everything you can think of.
The theme of this year's festival is Pidgin Imaginarium, essentially a call to Africans to push forward and claim their space in a technological world that increasingly others them. Quoting the organizers, Accra[dot]Alt, "a limitless "pidgin technology", mediating our seemingly permanent state of siege. This requires us thinking about pidgin outside of it being a language, and more as a philosophy of resistance."
MTN Gaming Conference (formerly Game Developers Congress)
When: August 30 (formerly July 26)
Where: Accra Digital Centre
Rate: Free
---
Game development in Ghana is almost non-existent with only a few major game development studios. Indie developers are relatively unknown as well as some "major" studios. Developers operate in silos, often one-man teams, creating a fragmented industry with barely enough capacity to scale or build a sustainable ecosystem.
This congress, reportedly the first of its kind aims to change that by bringing together stakeholders, (programmers, game designers, illustrators, producers, sound designers, writers, content creators, etc.) to exchange ideas on the best way forward for the development of interactive games and immersive experiences.
The Games Dev Congress presents an opportunity for stakeholders to network with professionals from global game companies such as Unity, International Game Developers Association (IGDA) and X-box to help shape what would become the backbone of the video game industry in Africa.
RSVP to attend here. This event is sponsored by MTN Ghana and supported by Leti Arts.
Kadi Yao Tay
Kadi Yao Tay is an improving social inept constantly navigating the maze of human interactions in a bid to figure out his place in the world. He has an unbridled love for kelewele (spicy fried plantain) and abuses the word "chale", chale. He also sucks at soccer video games and absolutely won't play against you. Do not ask! Oh, also, editor-in-chief on this site, producer of the
Accra Animation Film Festival
and editor of
Noanyi
,
YPKI
&
Once Enough
.
Related posts