On January 11 this year, the three winning shorts of the Cartoon Network Creative Lab animation competition were aired on DStv channel 301 and GoTV channel 67. This came a year after Garbage Boy and Trash Can (by Moshood Ridwan Shades), Majitu (by Mark Kinuthia) and Intergalactic Ice Cream (by Andrew John Phillips) were declared the winning shorts.
Two years after the competition in 2018, there hasn't been another Creative Lab contest. This is in spite of the increased interest in African animation highlighted primarily by Annecy 2020's Africa focus (read the implications for Africa), contests such as Triggerfish's 10-second competition, Digital Lab Africa and by growing events such as CTIAF, AAFFia, NAICCON, Lifanima, SMW Lagos, and DISCOP.
Ariane Suveg, Head of Programming and Acquisitions, WarnerMedia Kids Africa, recently sat down with Screen Africa to answer a few questions concerning the CN Africa Creative Lab; its success, future, lessons, African animation and more. We've posted some exciting highlights from that interview below.
Do you think that the current players who created the winning shorts have the potential to play with bigger players in the industry?
The ambition of CN Lab was to select the best creative ideas and ensure high-class production standards are met to potentially open doors for these local productions to travel. As an international company, and one of the biggest players on the global media market today, we have an opportunity to facilitate international collaborations, giving the talent the opportunity to interact with international production experts. We think that very local African stories, as they are unique and driven by strong values and catchy ingredients, could resonate globally as well.
What is some advice you can give upcoming content creators to monetise their content in Africa?
African creatives make the most of online video services. This is not the ultimate monetisation guarantee, but it's an amazing publicity tool to spread and communicate creative work which has the opportunity to be seen by production or content providers. At the same time, putting too much content on AVOD is a barrier for selling it to networks. There is a balance to find in between, working also on various formats, from shorts to long-form content.
What are some key areas in the African animation industry that you are keen on branching into?
It's only the beginning of the journey, as there are many areas to explore on the continent. The success of comic books in Nigeria is a source of inspiration: we see a potential for African animated super-heroes and super-heroines.
When will Cartoon Network and Boomerang start investing in making local productions (i.e. a full show) for, and by, African viewers?
Our channels need to be representative of our audience and making local productions is part of this objective. On Cartoon Network, we have created local content productions such as Pop Up Party, a series celebrating having fun and getting together through dance and music, that will now come back for a third season on the channel, and on Boomerang we have WOOALA!, an interactive magic show filmed on the streets of Cape Town, to give a few examples. Animation is now the genre we want to commit to, and it's a fantastic project as there is a strong demand for more African animated content. We're currently working on how to start developing projects.
Takeaways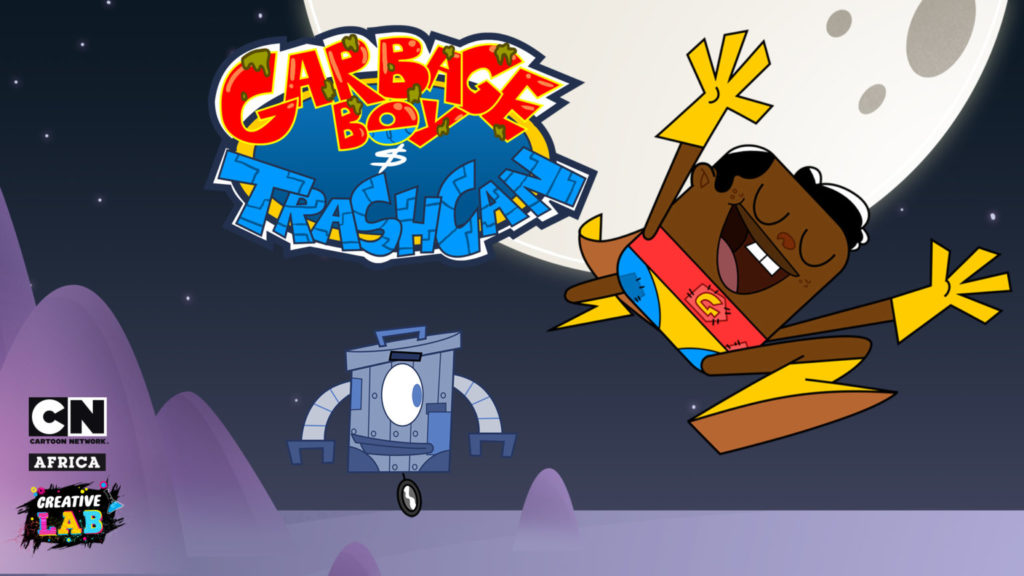 There won't be another edition of CN Creative Lab this year. However, Ariane Suveg shares that the network is partnering with festivals and organisations across the continent to find new stories and talent.
This hints at three things. One, there will likely be more animation competitions except they won't be spearheaded by Cartoon Network Africa. Instead, CN will either be a sponsor or facilitator.
Secondly, CN will be partnering with studios across the continent such as Triggerfish Studio to produce in-house projects that are in line with the network's direction.
If you've got a great idea for a show and want to see it on a network like Cartoon Network, now might be a good time to polish your ideas and work on your pitch bibles.
Thirdly, and this is wild speculation, CN will be organizing training labs/workshops to equip creators with the necessary skills to work with and/or for them. If this happens, it'll increase the number of such efforts to "discover" animation talent across the continent.
The success of the Creative Lab has confirmed our conviction that great animated stories can be found and developed from the African continent.

Ariane Suveg
While this statement might be considered slightly condescending, it points to the fact that the rest of the world, where the paying market is largely unaware of what's possible here. From the interview, there's the sense that more effort will be put into collaborating with African creators. Others might see this as a way to acquire cheap labour for different productions.
Another key takeaway from the interview is advice on sharing work and monetising. While sharing content is a great way to showcase African animation skills and stories, fully relying on this is not a great idea. Networks want exclusive content; fresh, never-before-seen shows. Oversharing reduces the chances of your project being picked up and developed into a show. The key takeaway here is to put out content that shows what you're capable of but to save a good chunk for networks like Netflix (who is producing two African animated shorts), Nickelodeon and Cartoon Network to buy.
In simple terms, don't put all your eggs in one basket; the basket here being YouTube, Vimeo and social media.
African comic books are of keen interest. It's easy to see why comic books sprung up in this conversation. This is off the heels of the well-received Malika: Warrior Queen animated short. The film is based on the eponymous comic book produced by YouNeek Studios in Nigeria.
Beyond YouNeek Studios' collection of stories exists a booming number of comic studios in Nigeria creating unique and diverse stories that could make for great animated shows. Moving past Nigeria, other comic book clusters have formed on the continent, specifically in Kenya, South Africa and Zimbabwe.
Does this signal the coming of comic book animated shorts in Africa? Probably. Only time will tell.
Check out the full interview with Ariane on Screen Africa here.
---
Also, read our interview with Ariane Suveg on the first Cartoon Network Africa Creative Lab here.
---
Looking for a weekly dose of animated goodness from Africa? Head over to our Weekly Shorts page and satisfy your content needs.
Kadi Yao Tay
Kadi Yao Tay is an improving social inept constantly navigating the maze of human interactions in a bid to figure out his place in the world. He has an unbridled love for kelewele (spicy fried plantain) and abuses the word "chale", chale. He also sucks at soccer video games and absolutely won't play against you. Do not ask! Oh, also, editor-in-chief on this site, producer of the
Accra Animation Film Festival
and editor of
Noanyi
,
YPKI
&
Once Enough
.
Related posts